Get to Know Our Retractable Awning Company
Being able to get out and enjoy the sunshine is wonderful. There's nothing like enjoying your outdoor area on a warm day. However, UV rays from the sun can be harmful to you, your family, and your property. That's why our team at Sun Solutions has created a range of superior products that offer sun protection. Through our research and experience, we've developed industry-leading solutions that will keep your home safe from the sun and other elements for years to come! Whether you need solar screens, retractable awnings, fixed pools screens, interior shades, or even custom solutions, we can help! To learn more about our products or to schedule an appointment with us, reach out to Sun Solutions today! We're excited to help provide you with protective products that allow you to enjoy the outdoors the way you're meant to.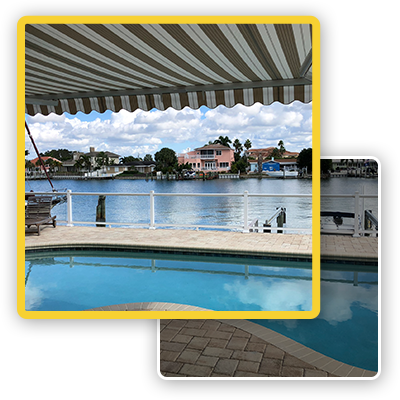 Benefits of Working With Sun Solutions
Quality — We've created the most innovative solutions using industry-leading research and techniques. We know what makes sun protection products great.

Customer Service — To us, it's about a lot more than just a transaction. We believe in creating long-lasting relationships with each of our customers.

Careful Installation — When it comes to working with us, you'll not only get the highest quality solutions on the market, but our team will install them for you too!

Customization — We know that sun protection isn't one-size-fits-all. That's why we offer customizable solutions that can be tailored to your specific needs!

Warranty — We offer five-year parts and fabric warranties on each of our products so you can enjoy solutions that last.
About Sun Solutions
We specialize in high quality, remote controlled, motorized, retractable awnings, and screens for residential and commercial customers. Our industry-leading products come with a 10-year warranty. We pride ourselves on providing you with unmatched customer service and excellent products, all at an affordable price.
We're proud to help property owners protect their homes and business from sun, weather, pests, and debris. Our modern awnings and screens are discreet yet powerful, providing top-notch protection without affecting aesthetics. In fact, they're so well-designed, they actually add luxury and beauty. Once they're customized and installed on your property, you can rest assured they'll stand the test of time.
At Sun Solutions, we sell the world's best roll screens and retractable awnings, but what we really do is give people genuine peace of mind. Our products are designed to prolong beauty and comfort, and thanks to our careful installation services, they fulfill their maximum potential. When you work with us, we'll listen to your needs and customize our products to your property. You'll find that it's easy to enjoy everything we have to offer. Get in touch with us to learn more.
Find Superior Sun Protection Today
When it comes to sun protection, we know you have lots of options. That's why, here at Sun Solutions, we've created the most premier options that we can take pride in. If you've been searching for sun protection products for your home or business, rely on our team at Sun Solutions. We'll not only help you decide which solutions are right for your property, but we'll also install them for you. We're here to answer any questions you may have about our sun protection products.
Reach out to Sun Solutions in Tarpon Springs today to get started! We look forward to working with you.